As an Air Force veteran, I know how important it is for military members to be aware of their spending habits.  Veterans especially need to be aware of their financial situation because some of us do not have the "dependable deposits" like when we were in the military.  You know what I mean: the 1st and 15th!
Recently, I've worked with veteran families who are in between jobs, transitioning out of the military or simply at a loss with how to manage their finances.  You don't have to be lost anymore.  Join me and millions of others who will commit 6 days to saving.  Are you up for the challenge?  If so, join us today.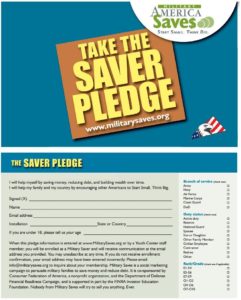 Military Saves Week , February 26- March 3 is an annual opportunity for organizations to promote good savings behavior and a chance for service members and their families to assess their own saving status. Typically hundreds of organizations participate in the Week, reaching millions of people.
In addition to supporting Military Saves and America Saves week, I'll also be hosting a FREE 5-day challenge that week.  In addition to encouraging savings, I'll also show you how you can Double Down on Debt.