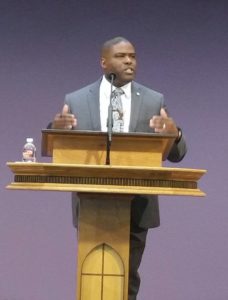 Herman Baxter – A father of two daughters, one son, and happily married to a beautiful wife.   He is a Major, retired from the Air Force,  has a B.S. in Occupational Education with an emphasis in Corporate Development and Training, B.A in Theology,  M.S. in Management, and a ThM (Masters of Theology) from Dallas Theological Seminary where he earned the H.A. Ironside Award for preaching, Class of 2017.  He is currently pursuing his DMin in Spiritual Formation at Dallas Theological Seminary.
He enjoys serving in ministry, especially teaching small groups.  When he is not involved in ministry, his family is his main priority.  Outside of family time, he has his nose buried in a book studying for school.  When he is not parsing Greek words or reading Hebrew from right to left, he can be seen firing up the grill in preparation for Sunday Night Football.
Herman is actively involved in his local Church.  He currently serves in Men's Ministry where he takes the Word of God and makes it practical for men to live out Biblical principles in their day-to-day lives.  This ministry allows him to build relationships with men who want a deeper understanding of God and His Word.  On occasion, he teaches Wednesday night Bible study, preaches on Sunday, teaches Sunday School and still manages to greet first-time guests when they visit our church.  He travels around the country sharing the Gospel message with everyone who has an ear to hear.  His calling verse is Ezekiel 3:17.
As a Spiritual Life Coach, Herman will partner with you to unlock the spiritual goal that God has set before you and support you to accomplish it.   His area of specialty involves being the Pastor's Partner.  He has a compassionate and supportive way about him that creates a safe place for those who often require confidentiality and trust in their relationships.  He not only ministers to several Pastors in the local area, he has been known to be a Minister's Mentor to those who have not received formal training in ministry.
Contact him for a FREE 20 min conversation where you can get to know him a little better.  After your chat, if you feel his coaching style is a good fit for you, he looks forward to walking along side you as you start living abundantly now.